Members learnt how to play 9-ball pool through
an online course organised by HomeTeamNS Bukit Batok Clubhouse.
In collaboration with Aspire Cuesports, HomeTeamNS Bukit Batok Clubhouse hosted a 'live' pool game on its Facebook page on 13 June. The virtual event featured two pool masters in action — KK (Chan Keng Kwang), 2005 SEA Games 9-Ball Singles Gold Medallist; and Charlene Chai, 2009 National 9-Ball Open Category Champion. The one-hour session included an introduction to the game of 9-ball pool and its rules, fun facts, a trick-shots demonstration, and a friendly match between the two experts.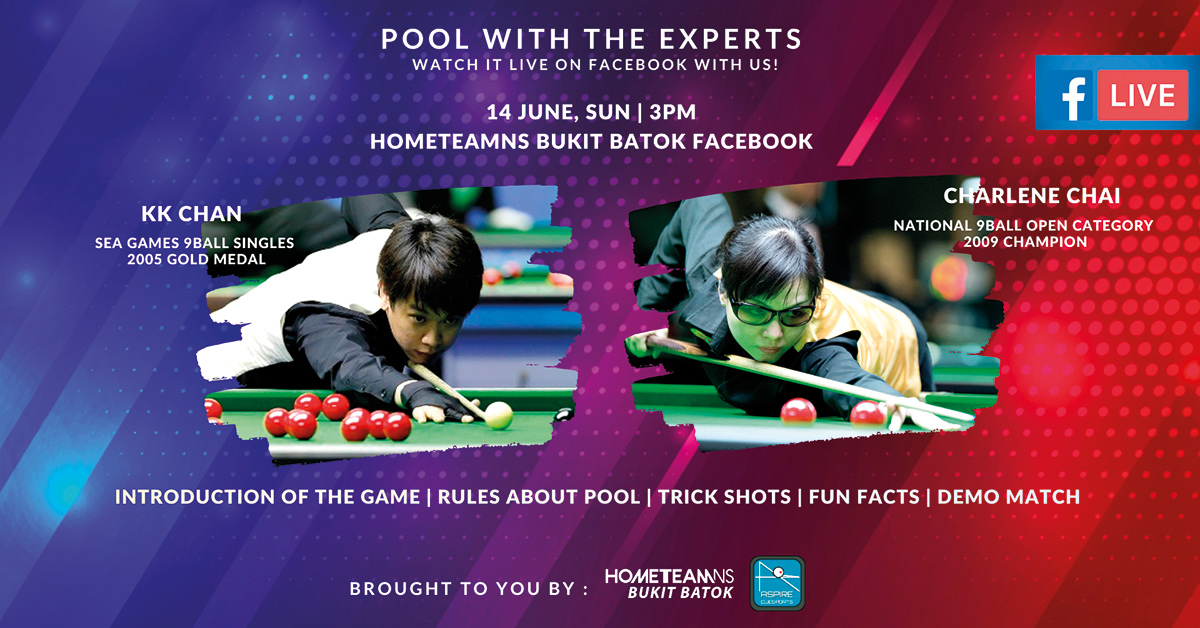 Watch and Win
To further engage viewers, those who liked and shared the video — as well as tuned in to the entire duration of the livestream and answered some questions correctly — stood to win prizes. Five pool enthusiasts scored $10 NTUC vouchers, while a lucky winner walked away with a pool cue stick (worth $180), sponsored by HomeTeamNS Bukit Batok Clubhouse and Aspire Cuesports respectively. Many of the viewers thanked HomeTeamNS Bukit Batok Clubhouse for organising the session, with one of them commenting that "the event was very creative and well organised, as it allowed pool lovers to have some entertainment at home during this period."
Other posts you might like:
[box_1 query_per_page="2″ query_manual_ids="10865, 10425″ meta_category="" meta_date="" meta_views="" meta_author="" meta_comment="1″ load_more_btn=""]