Staying agile and alert – CPL (NS) Muhammad Sholihin bin Rahman relies on mental and physical strength to carry out his life-saving duties as a first responder.
Flexibility and adaptability are important qualities for people like CPL (NS) Muhammad Sholihin bin Rahman. He is trained to respond to emergencies in the Singapore Civil Defence Force (SCDF) and in his professional work capacity at the Airport Emergencies Services (AES), where he deals with airport emergency incidents such as faulty aircraft brakes or when an aircraft suddenly catches fire. "We have to listen to instructions from our section commander – both at SCDF and AES – and act accordingly," he says.
As a firefighter at Sengkang Fire Station, the 24-year-old undergoes a series of endurance and scenario drills, including running, to keep himself mentally and physically fit to handle emergency situations.
"When we receive an emergency call, we usually have the initial information about the incident. While en route to the incident location, we are already thinking through the things that we should and should not do," he says.
"A good firefighter should have a strong mindset and self-discipline. It's important for us to keep up with our training and stay fit to effectively carry out our duties."
Sholihin also keeps himself up to date with the latest firefighting techniques by watching fire and rescue videos online. "I'm interested in seeing how firefighters work in other countries so I can improve my skills and keep abreast of all the best practices," he says.
The active firefighter, who enjoys challenging himself, also took part in the Singapore-Global Firefighters & Paramedics Challenge, held on 23 November 2019, to pit his rescue skills with other divisions within the SCDF. It was his second time taking part in this challenge, and he shares how he prepared for it.
"The team of five personnel spent two weeks before the event to train for the Confined Space challenge. We trained within a specific layout, which was similar to that of an actual event," he explains.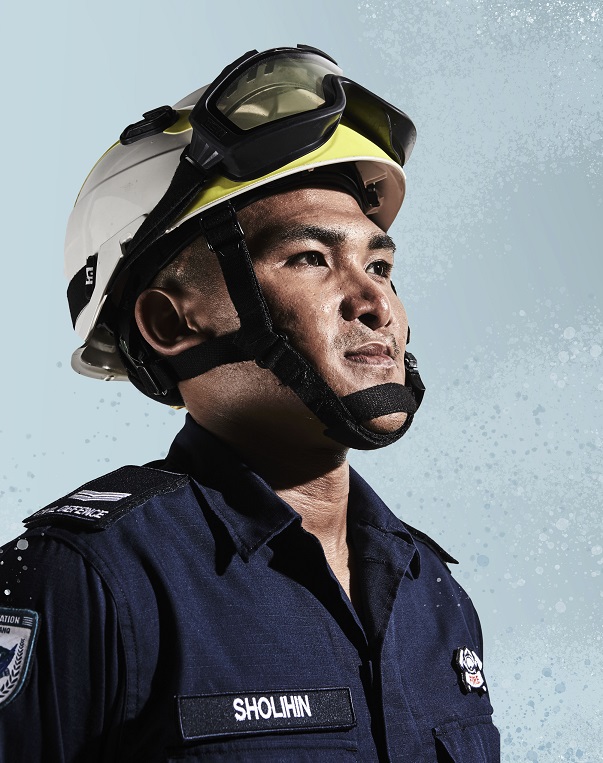 "During the challenge, I had to lift a concrete block using my equipment, crawl through a tunnel, and carry some casualties."
[box_2 query_per_page="1″ meta_category="1″ meta_date="" meta_views="" meta_author="" meta_comment="" load_more_btn=""]
As a matter of fact, the skills that he has gained through his SCDF stint has helped him to save a motorist, who was bleeding profusely during a road traffic accident. "I was on the way home with my friend when we saw the accident. We performed CPR on the man before the ambulance arrived," recalls Sholihin, who received a Pride & Care award in 2018 for helping in the incident. "I felt good as I was able to put the skills that I've learnt to good use and help save a life."
He says his time with the SCDF has also taught him the importance of teamwork, which is crucial for those responding to emergencies.
"During drills and incidents, we work as a team and help each other out by taking on added responsibilities if there is a need for it. We don't leave each other in the lurch," says Sholihin, who shares a deep bond with his full-time National Service buddies at the fire station.
"We eat and sleep together, and sometimes share life's travails with each other. It is this deep bond that keeps us going in the pursuit of contributing to the nation."
Other posts you might like:
[box_1 query_per_page="2″ query_manual_ids="10085,10300″ meta_category="1″ meta_date="" meta_views="" meta_author="" meta_comment="" load_more_btn=""]