Here's how the Singapore Police Force's DAC (NS) Mulyadi Ahmad upholds his responsibility to the nation's security and sustainability.
TEXT: KEENAN PEREIRA
PHOTOS: DAC (NS) MULYADI AHMAD
By day, DAC (NS) Mulyadi Ahmad oversees the environmental public health operations of the western region of Singapore, in his capacity as a Deputy Director of the National Environment Agency. "This entails a range of environmental matters, from littering and smoking   enforcement to sanitation and environmental hygiene," explains the 46-year-old.
His duty as an environmental champion doesn't stop at the end of a workday: It also continues at home, where he is the "environmentalist-in-chief". "I want to remind my five children, aged five to 20, about the importance of sustainability," he says. "Through my work, I am keenly aware of the growing waste problem we have and how our landfills will eventually run out of capacity. All of us must play our part — and I want my kids to play theirs."
SMALL STEPS TO A GREENER FUTURE
To instil this responsibility, he limits the number of times that the family can use food delivery apps. The rising popularity of such apps during the COVID-19 pandemic has unfortunately flooded our landfills, incinerators and even oceans with more plastic containers, utensils and bags.
"I'm not always successful in discouraging the use of disposables, but at least the kids think about their actions," he admits. "Whenever I can, I'll just go to the coffeeshop with my reusable containers to buy food for the whole family, so we can cut down on waste together."
But sometimes, DAC (NS) Mulyadi knows that the use of disposable plastics is inevitable. One of his family's beloved pastimes is dining at hawker centres together, with the East Coast Lagoon Food Village being their favourite. "When you go there, the stallholders give you styrofoam plates and utensils, even when you're eating there. What can you do?"
The pandemic, he adds, has helped his family overcome the dilemma. "Because we're a household of seven, we haven't been able to dine out for a few months since safe distancing measures were heightened."
MAKING ECO-FRIENDLINESS A HABIT
Contaminated recycling bins are another cause for concern for DAC (NS) Mulyadi. He still feels helpless when he brings down the family's recycling bag down to the recycling bin, only to find that it has been contaminated by non-recyclables like food waste. Never one to give up, he feels that one should continue to try to educate and influence the people around them.
DAC (NS) Mulyadi is proud that his children have embraced the values of sustainability, but he admits that they still sometimes need a nudge from him. "To them, it may seem easier to just throw away the plastic drink bottle but after I remind them about the right thing to do — which is to clean and recycle it — they do it. It's about constantly reminding those around us and making eco-friendliness a habit."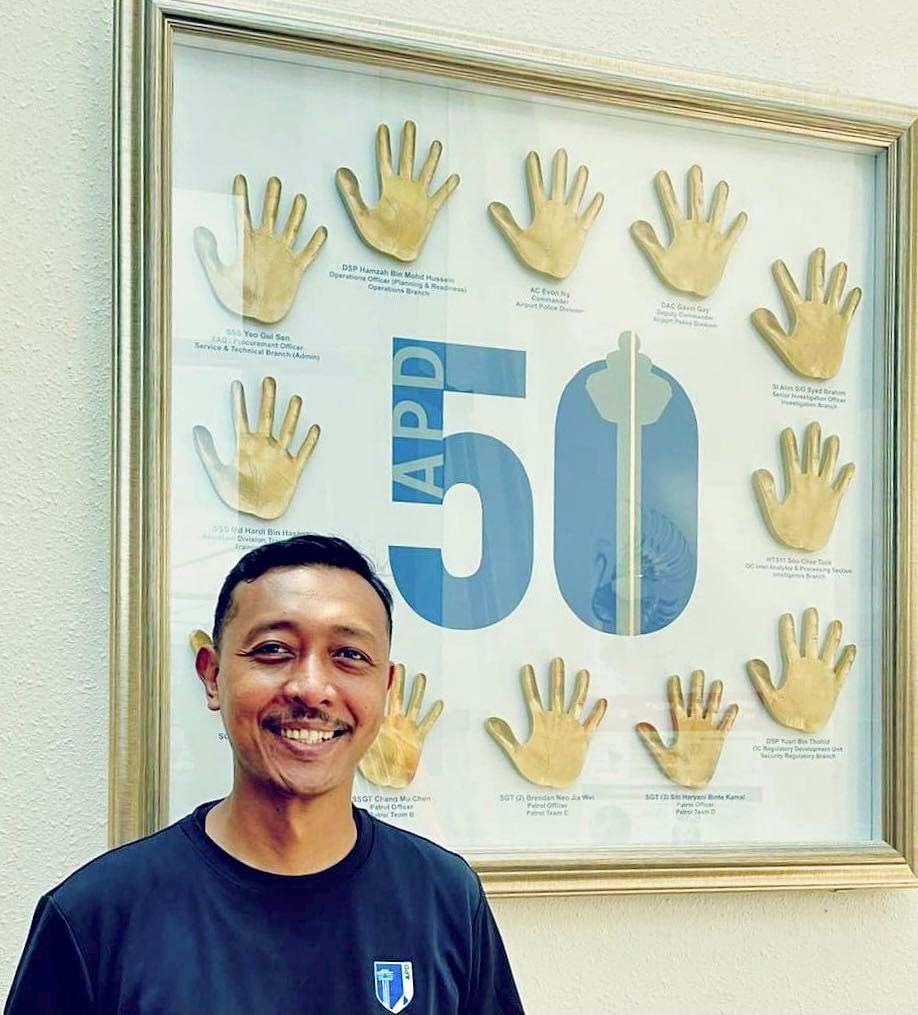 Another cause that DAC (NS) Mulyadi feels strongly about is National Service. As the NS Commander of the Airport Police Division, he oversees the operations, deployment and welfare of 1,300 Police NSMen (PNSMen) under his charge. Together, they upkeep aviation security and safeguard Changi Airport's reputation as a safe and secure travel hub. "It has been a quiet two years because of the pandemic, but that also poses a unique challenge: How do you keep the men warmed up and on their feet? We cannot let standards slip because of a dip in passenger movements."
To tackle this, DAC (NS) Mulyadi and his team engage in regular recalls, sometimes as often as once a week, to keep his men on their toes. But he also balances the need for operational readiness with respect for his men's careers and personal lives. "NS is a commitment, but it's not their only one," he acknowledges. "These men are pilots, business owners, physical trainers — they each have their own commitments and we must respect those as well.
The solution, he says, is to lead by example and adds that on some days leading up to a recall, NS commanders like himself can end their days at 11pm. "Everybody puts in the effort to achieve our common goal." And when he ends a particularly gruelling day or work week, he turns to his loved ones to get recharged. "We don't have to go out to enjoy each other's company," says DAC (NS) Mulyadi, whose latest pastime is watching Korean movies and dramas on Netflix with his family. "At the end of the day, it's the company that matters."
Back in 2013, when DAC (NS) Mulyadi was offered the appointment of NS Deputy Commander in the Airport Police Division, he initially hesitated to take up the appointment because of family commitments. But his wife, Mdm Nur Aini, encouraged him to accept it, saying: "If you are the one selected and if your service is needed by the nation, you should take the opportunity to contribute."
Like our stories? Subscribe to Frontline Digital newsletters to get your bi-weekly dose of updates on new stories!