Because the world can always do with more of a woman's touch
2020 was a year that caught the world off-guard, and nothing's been the same since. COVID-19 changed life as we knew it, but a new breed of captains appeared to right the ship – women.
From New Zealand's Prime Minister Jacinda Ardern who won hearts and votes with her bold and defined handling of the crisis, to Germany's chancellor Angela Merkel who swiftly united the country's response, the political examples of female leadership shone a light on what happens when women take charge.
To pay tribute to the outstanding achievements by women amid the pandemic, the Ministry of Social and Family Development declared 2021 as the year of Celebrating SG Women on Jan 30.
HomeTeamNS marked the occasion with an event on International Women's Day (March 8), and in collaboration with United Women Singapore, organised an evening observing the many roles and achievements of today's women.
International Women's Day celebrates women's economic, social, cultural and political achievements and marks a call to action for accelerating gender parity. The theme for this year's event is choose to challenge.
#CelebrateSGWomen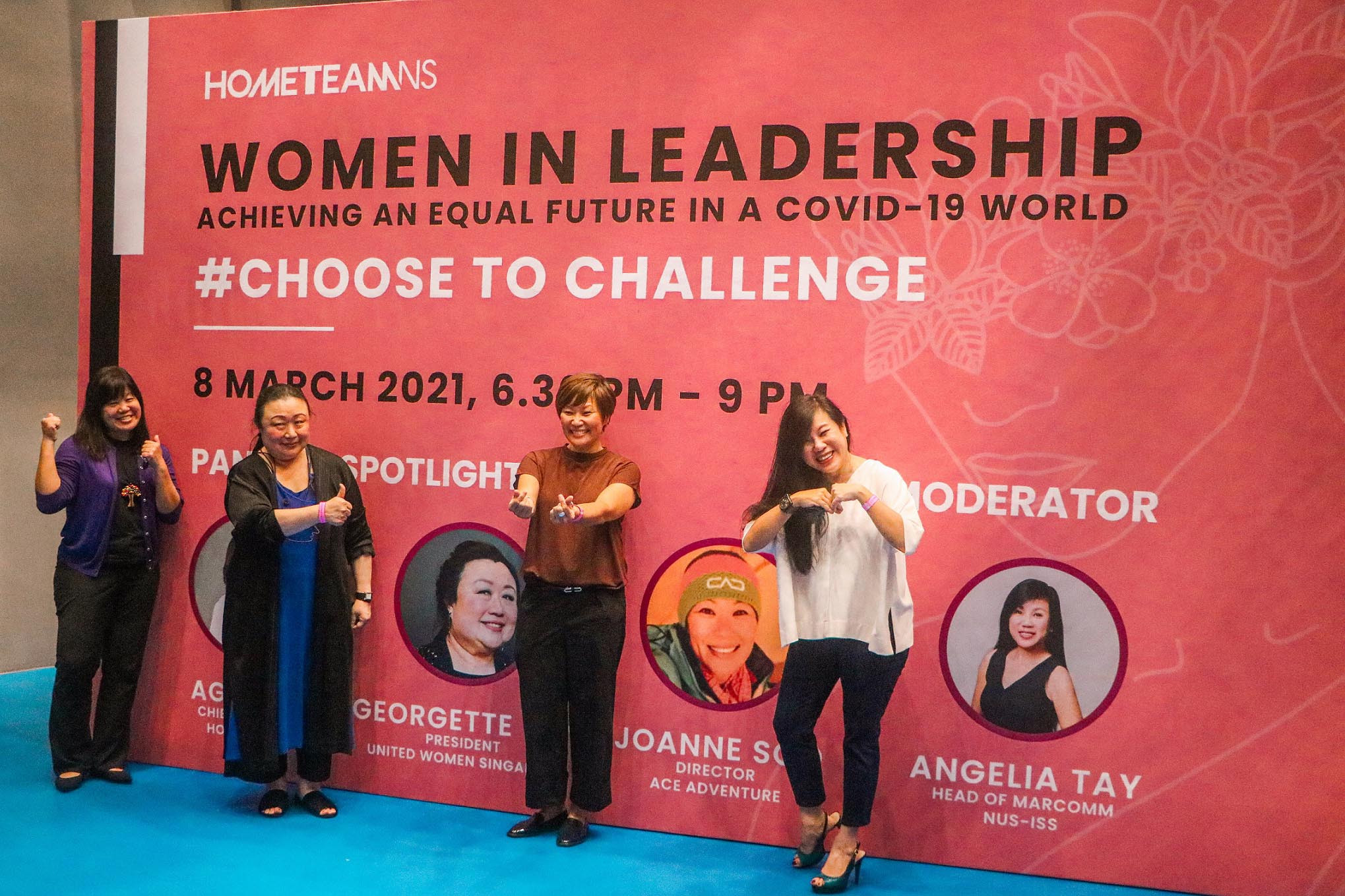 Of the 19 leadership attributes investigated by Harvard Business Review, results showed that women actually outscored men in 17 of these qualities. At the top of the list were initiative, resilience and a personal drive for self-development – all displayed in Ms Ardern and Ms Merkel's exceptional leadership during the pandemic.
HomeTeamNS recognised women's multi-faceted roles and their many contributions during the global crisis with Women in Leadership – Achieving an equal future in a COVID-19 World. The event saw 50 attendees enjoy an evening of panel discussions, carnival activities and light refreshments at Adventure HQ in HomeTeamNS Khatib.
On the panel representing HomeTeamNS, was Chief Executive Agnes Eu herself, who shared her experiences leading the team. She highlighted the importance of why organisations need to base their hiring on skills, citing her own as an example with a well-balanced 60/40 ratio between men and women. She also noted a trend in the shifting of roles that used to be male-dominated – for instance, 50 per cent of their Skilled Outdoor Specialists were female.
Ms Georgette Tan, President of United Women Singapore, concurred, and elaborated on the array of identities a woman adopts in today's society. Noticing how the COVID-19 pandemic has compressed their roles, she highlighted certain biases that are demanded of women such as eldercare and childcare, that is straining the mental health of some individuals.
More importantly, Ms Tan challenged women to channel their unique experiences and perspectives into opportunities, using them as avenues of change, but also not to exclude men from the conversations.
"I really found what she said very inspirational, how we are moving not from women's empowerment but towards gender equality," shared Ms Shema Tan Le Ping, 22. "We have to recognise that there are men out there that are also disadvantaged, so we are fighting for a fairer society and to treat everyone the same."
When asked if there was a COVID-19-proof trait that women can foster, United Women Singapore President Georgette Tan suggested that confidence was one thing that can bolster a woman to meet many of today's challenges.
#ChooseToChallenge
"Are you serious?"
This is what the third and final speaker was asked the most when she first announced years ago  that she planned to form the first Singapore women's team to scale Mount Everest
In a team with five others, Ms Joanne Soo reached the world's highest peak in 2009 after five years of planning and training. Recounting personal stories from inception to the peak, her experience highlighted the discrimination that women still face at home and abroad.
But the vibrant speaker faced these challenges with an unflappable sense of optimism, and believed that it was within all women to strive for more.
When asked by the moderator what she felt was needed for others to scale similar heights, she said that one needs to access their existing skillsets, then test and improve their competency until they conquer something grand. She highlighted how the Everest climb was first pitched by a girl in her team who was 20 at the time.
After the inspiring talk, participants got to fully explore their own facets with a variety of activities at Adventure HQ, including Singapore's first Roll Glider, which offers a similar experience to a zip line, albeit one with curves, turns and dips.
Guests could try target shooting at Tactsim, or test their agility on the Ninja Course or Trampoline Fitness. For more of a challenge, the Urban Rock Climb offers walls with 24 interactive elements and themes for a more dynamic climb.
The Sky Venture was also on-hand to offer more versatility. The rope course is Singapore's largest two-tier indoor challenge, with 16 obstacles for one to test their balance, coordination, observation skills and self-confidence.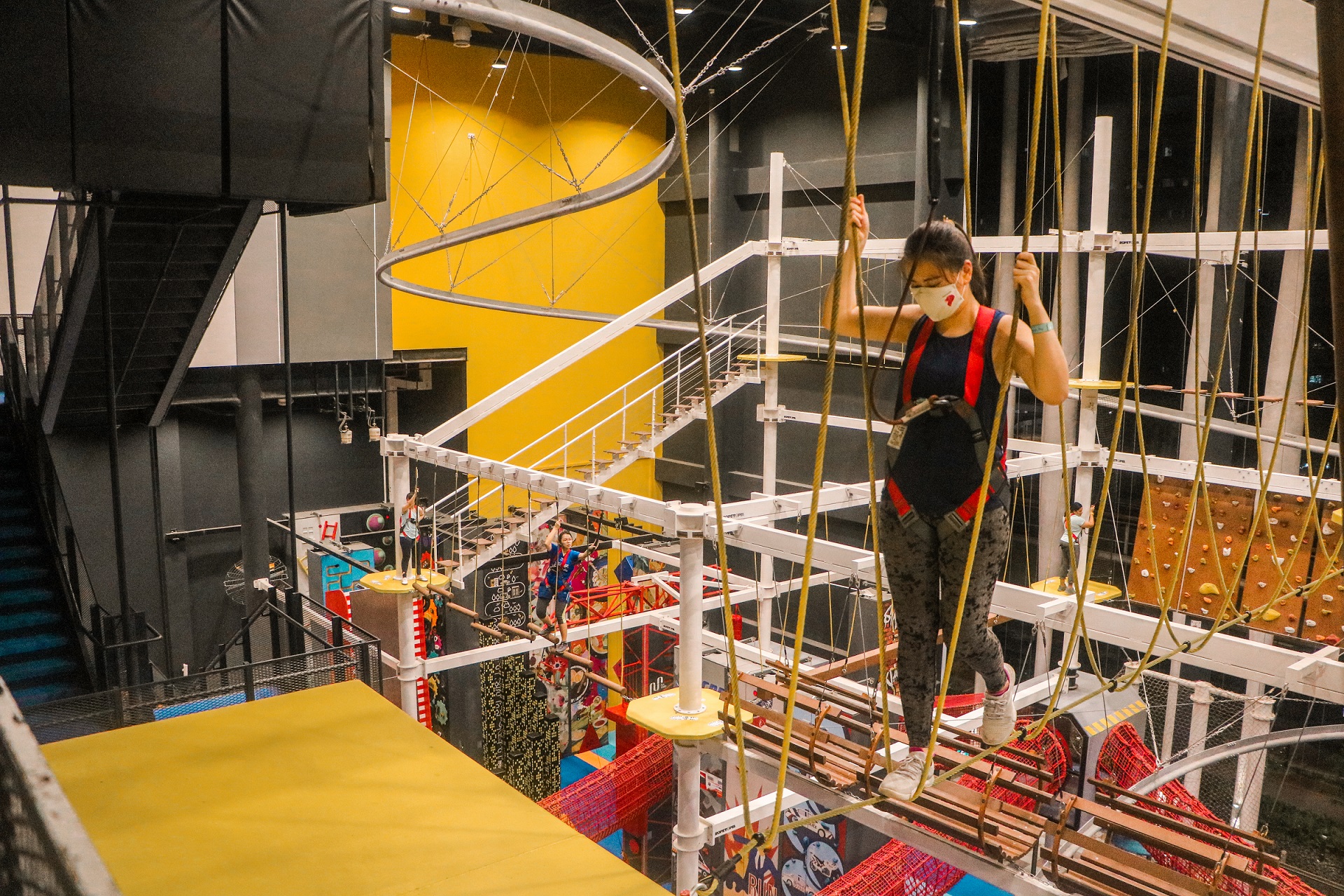 Other posts you might like: