Members of the Clubhouse Development Committee (East) journey back to the development days of HomeTeamNS' new waterfront haven.
TEXT: MELODY TAN
PHOTOS: HOMETEAMNS
The new HomeTeamNS Bedok Reservoir is officially open – and one of its most exciting facilities is the East Villa, comprising 10 beautiful waterfront villas.
But did you know that they narrowly escaped being simply called chalets, instead?
It was only after seeing the final design that the Clubhouse Development Committee (East) agreed that they were truly deserving of the title 'villas', recalled SUPT (NS) Jim Tan, Co-Chairman of the committee.
Along with Co-Chairman AC Kadir Maideen, Vice-Chairman LTC (NS) Nicholas Lee, and Committee Members DAC (NS) Yeo Kee Seah and SGT2 (NS) Shawn Quek, he sat down recently to take a look back at the fruitful process of creating HomeTeamNS Bedok Reservoir – and the committee's hopes for how it will serve HomeTeamNS members in the future.
BACK TO THE DRAWING BOARD, FOR PERFECTION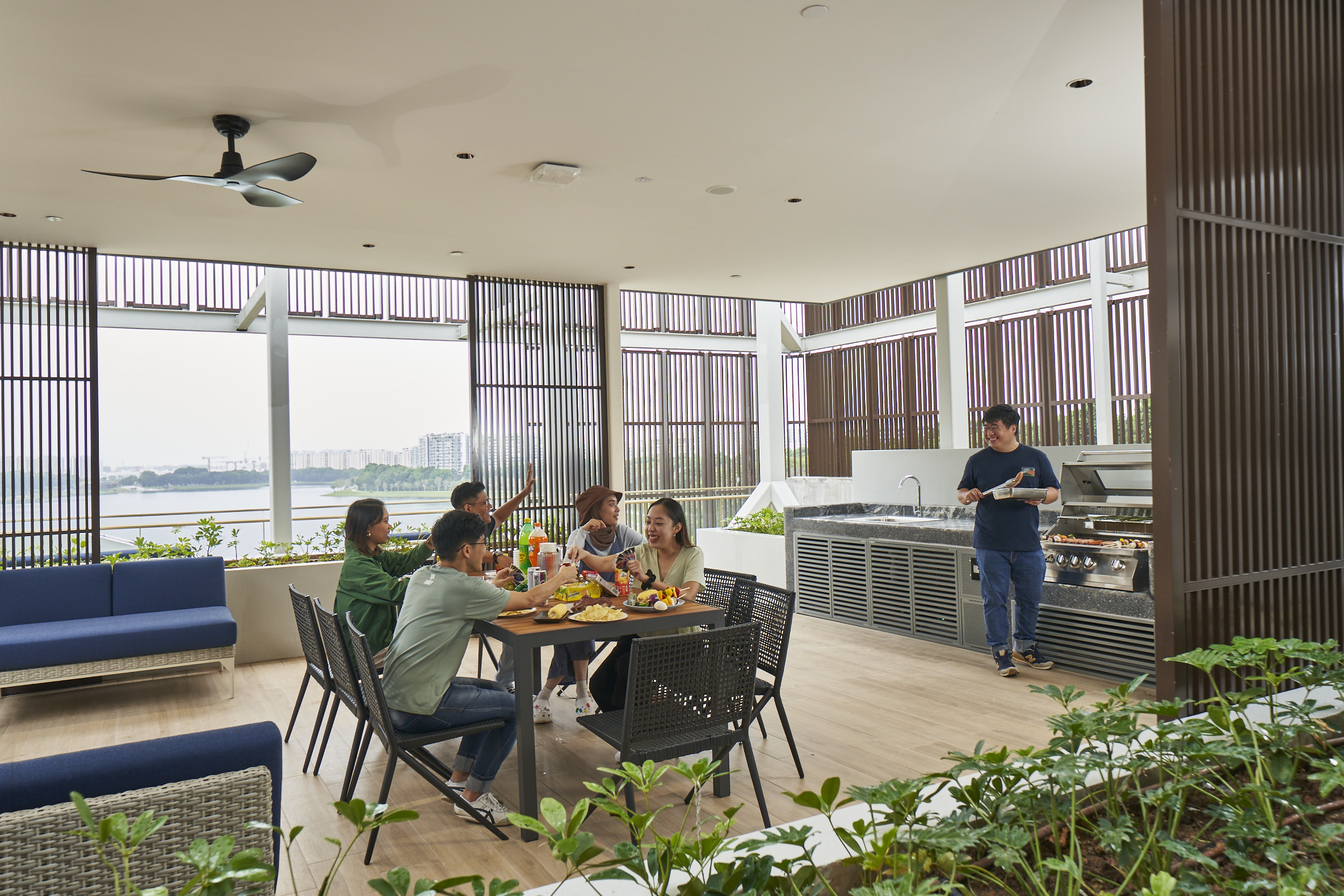 The key challenge of designing the Bedok Reservoir clubhouse was ensuring that it held all the facilities and spaces needed while still blending seamlessly into the surrounding greenery and water of its nature-rich setting. This turned out to be no easy task.
"The initial design from the architects, although meeting most of the operational requirements, did not capture this 'blend-into-the-environment' intention," said SUPT (NS) Tan, who is a qualified and practicing architect specialising in digital delivery solutions for the built environment.
"We did not just want to build a clubhouse, we also really wanted to look after nature," explained AC Kadir. "We did a biodiversity survey even before we appointed our consultants to have the experts assess the flora and fauna of the site. We did not want the building design to be too cold and blocky, which would stand out like a sore thumb in such a nice reservoir setting."
After several rounds of design renditions and discussions, a decision was made to embark on a re-development of the design – a bold move that turned out to be the right one.
The re-development phase focused on the clubhouse façade. The final version features vertical fins, inspired by the shape of trees around the reservoir. An effort was also made to maximise the area's idyllic views by giving clubhouse users more places to relax and enjoy the scenery.
Recalled AC Kadir: "I suggested that in order to not waste the space and potential of the roof, we make it part of the fifth level where the ManCaves are located. We communicated that to the designers, and that's how we have the nice roof balconies today."
When it came to the construction phase, another challenge emerged: Underground pipes owned by PUB had to be worked around, to avoid contaminating the reservoir's water supply.
DAC (NS) Yeo, who has been in the security industry for many years and helped to assess the clubhouse's surveillance set-up, said: "There were so many unknowns. The underground pipes already posed many challenges, and there were other surprises, such as pipes and cables that could have resurfaced as we dug the ground."
Thankfully, the project's consultants, architects, and contractors ensured that these problems were managed, and the completed clubhouse is now a one-of-a-kind attraction for HomeTeamNS members and their guests. 
A TECH-SAVVY CLUBHOUSE, SET IN NATURE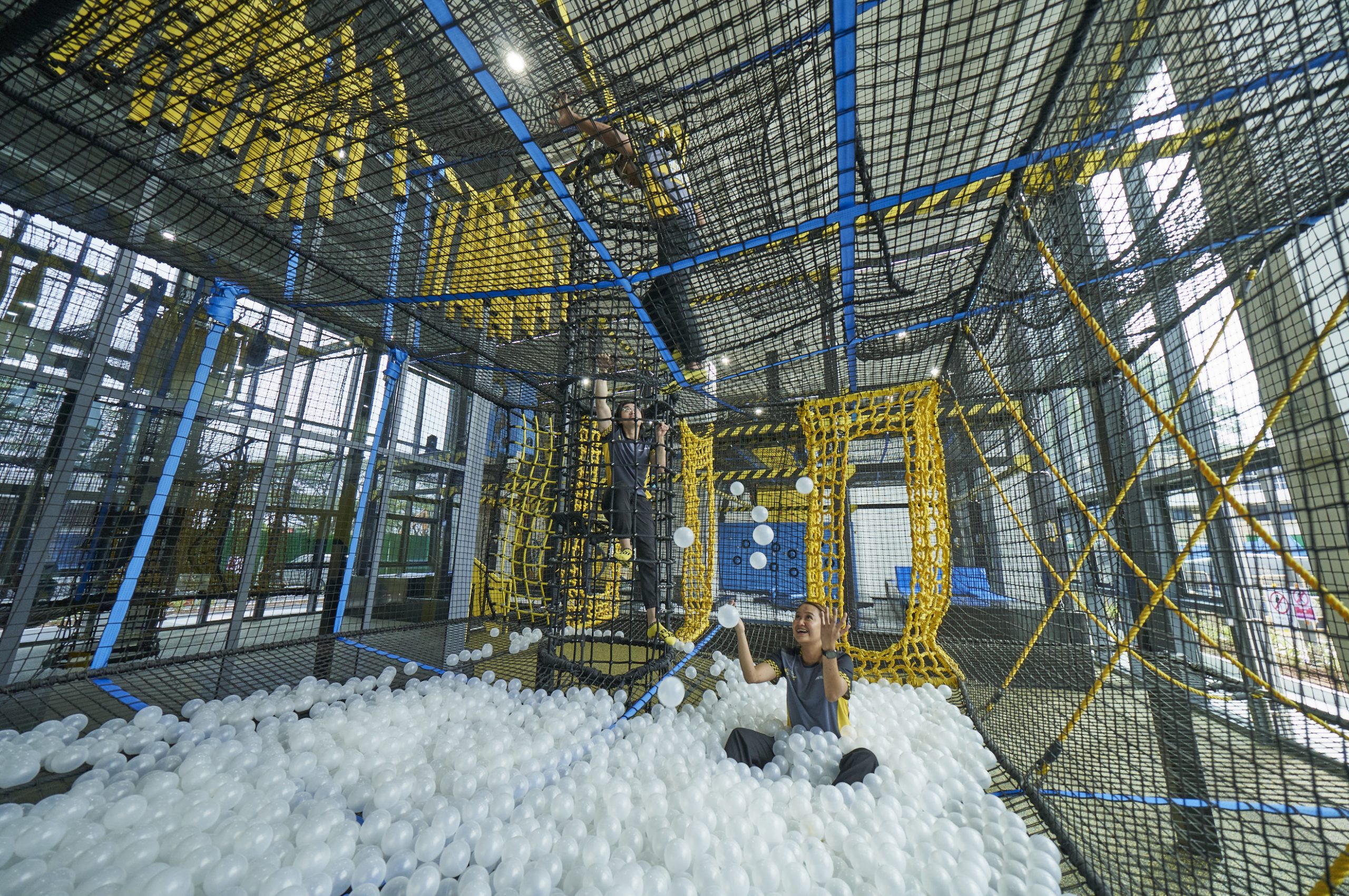 The newest clubhouse under the HomeTeamNS Clubhouse Masterplan, HomeTeamNS Bedok Reservoir, features state-of-the-art attractions.
As an example, AC Kadir cited the Action Motion, a first-in-Singapore digital active experience arena featuring an obstacle course, rock-climbing, and gamified user experience across all its five action zones. Users receive an RFID-enabled bracelet that records the points accumulated when it's scanned at each obstacle course. They can check their live scores on the facility's leaderboard and have some friendly competition with other users.
Those looking for less-competitive, family-friendly activities for all ages will be drawn to the clubhouse's array of fun water-based options.
SGT2 (NS) Quek said that among his favourite features of the Bedok Reservoir clubhouse were the infinity pool and upcoming water activities along the reservoir's waterfront. "I am also confident that the villas will be a big hit among our HomeTeamNS members," he added. "They will provide a lot of fun times for many families and friends to enjoy. Situated at Bedok Reservoir, these villas are waterfront properties, and that itself has a certain allure."
A splashing good time was also on the mind of LTC (NS) Lee, who said that he looked forward to going down Singapore's longest indoor water slide at Aqua Adventure. "I can't wait to let my kids have a go!"
DESIGNED WITH HOMETEAMNS MEMBERS IN MIND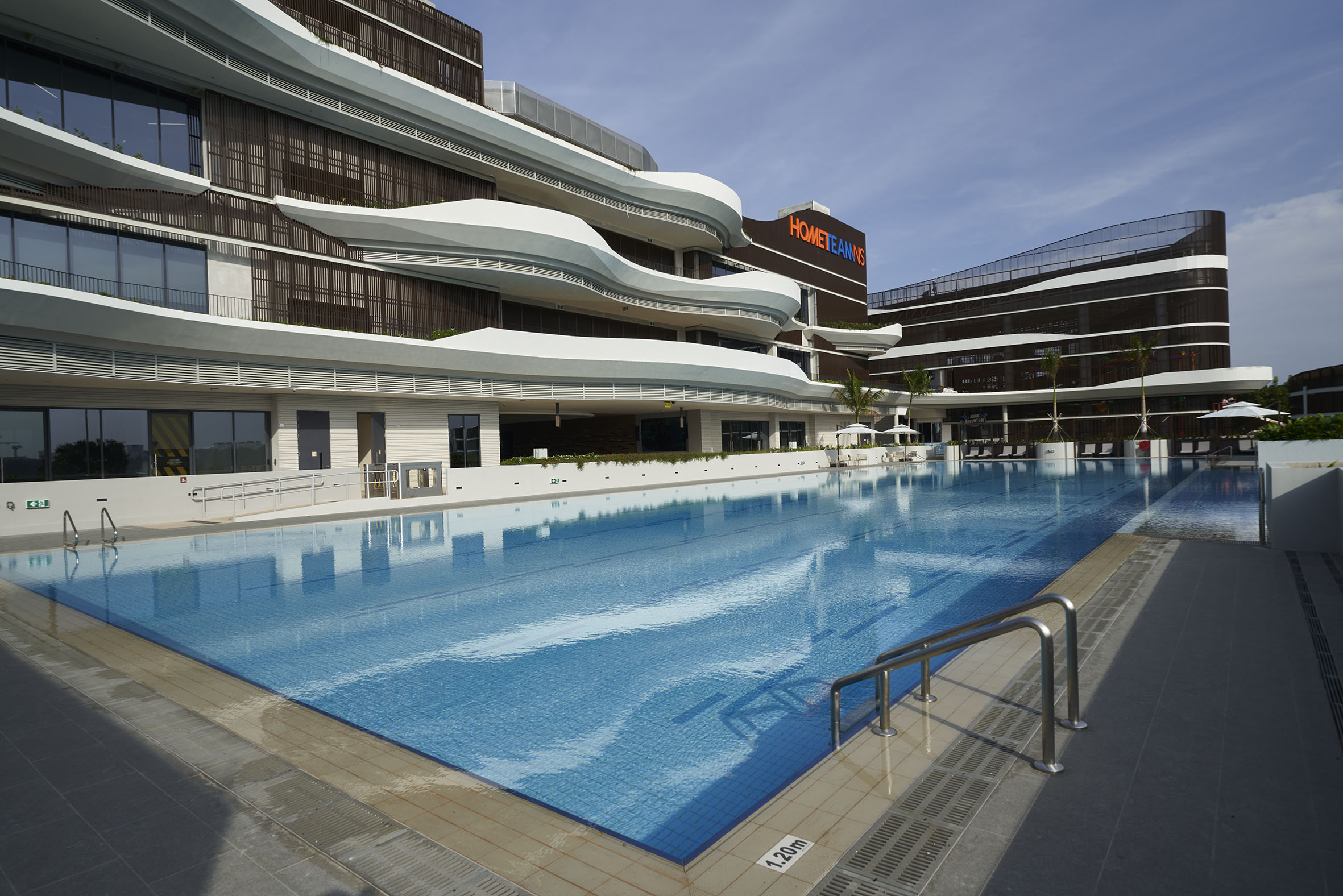 In overseeing the development of the Bedok Reservoir clubhouse, the committee made sure to abide by the motto: "For NSmen, by NSmen". They relied on research and surveys to learn what NSmen wanted: Space and facilities for interaction and gatherings, a family-oriented environment, and to have a clubhouse that they were proud to be associated with.
During the design phase, LTC (NS) Lee recalled mooting the idea of full-length swimming pools, to provide for NSmen who were avid swimmers wanting to do laps. "The end design did cater for some lanes to have the required length, so they could complete laps in a standard-sized pool."
AC Kadir recalled how it was useful to have NSmen volunteers present at the meeting with the Urban Redevelopment Authority where the committee was justifying the need for a larger plot of land: "Part of the reason for our clubhouse to exist is that NSmen and NSFs can have cohesion at the unit level. To organise that, we cannot have a small space when we bring them in."
He added that he hoped HomeTeamNS members would make use of the Bedok Reservoir clubhouse alongside their NS colleagues and families:
Like our stories? Subscribe to our Frontline Digital newsletters now! Simply download the HomeTeamNS Mobile App, and update your communication preference to 'Receive Digital Frontline Magazine', through the App Settings.