His job may seem like it's all play, but plenty of hard work goes into ensuring that Action Motion guests stay safe and have fun.
TEXT: MORGAN AWYONG
PHOTOS: A'FIF NAZALI
To the uninitiated, the specialists at Action Motion – Singapore's first digital active experience arena at HomeTeamNS Bedok Reservoir that offers gamification and augmented reality elements –seem to spend their entire day hard at play.
While players at Action Motion focus on conquering obstacles and setting high scores, specialists encourage them. While they certainly enjoy their jobs, there's also a lot of behind-the-scenes preparation that helps ensure that Action Motion players enjoy themselves at every turn.
Specialists like A'fif Nazali, wear many hats to ensure guests get the most from their visit to Action Motion. He lifts the lid on what it's like to be serious about having fun.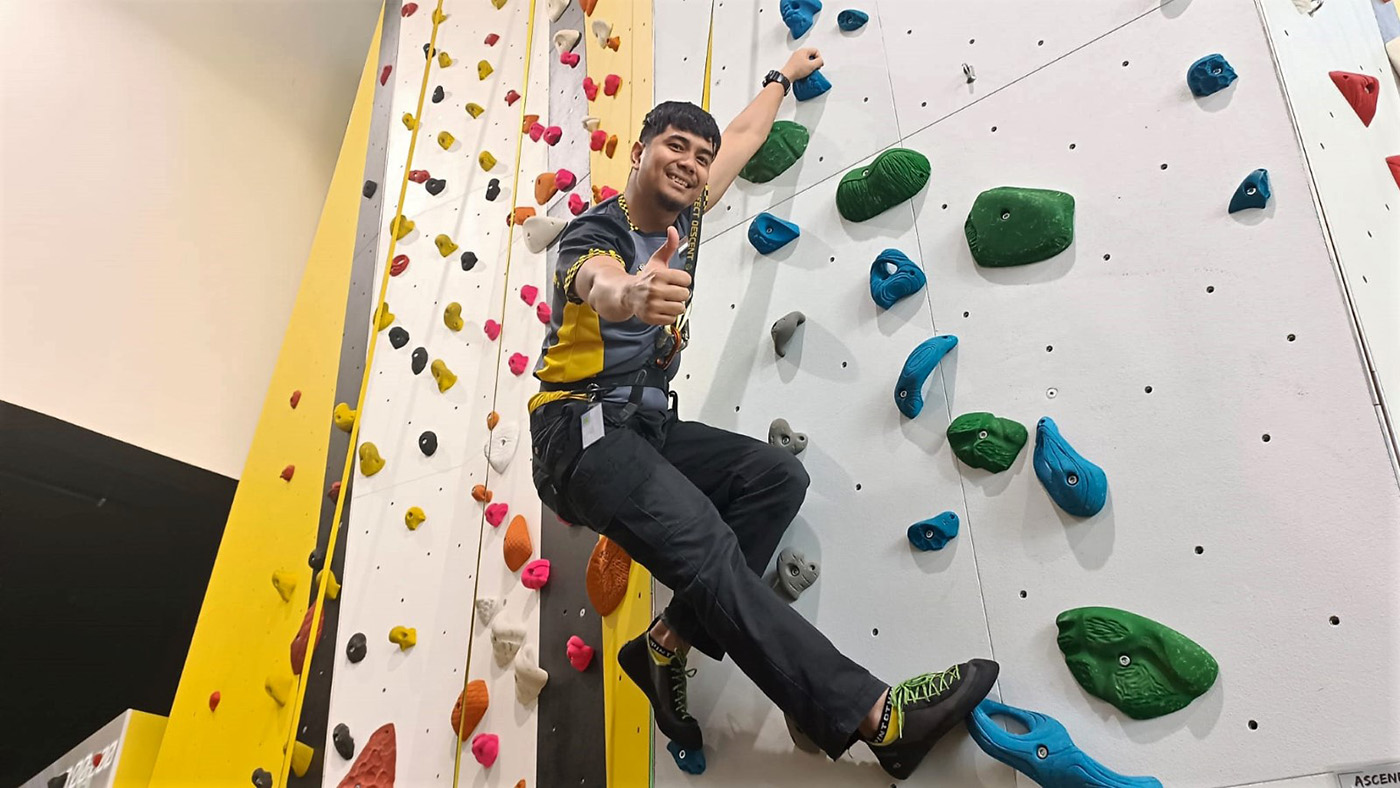 Before the various obstacles – which include rolling logs and pop-up stubs – are activated for visitors, they're subjected to technical checks by specialists like A'fif.
"As part of our daily checks during the facility's opening and closing, we ensure that all our installations are in good working condition and safe to use," he shares. "We have an operation checklist for us to cross-reference and spot any faulty or unsafe conditions."
These apply not just to the mechanical elements but to equipment and station gear as well, as specialists watch for signs of wear and tear. Even as players engage in each experience, A'fif and his team will observe the arena much like lifeguards and provide immediate assistance should the need arise. Specialists also provide safety briefings before encounters at Valo Climb and Ascend Lab. Players will be instructed on how to gently descend from the bouldering and rock-climbing walls, correctly harness themselves, and use the auto-belay system available.
On top of maintaining safety and managing operations, A'fif explains that they love to create a fun atmosphere because he wants to ensure that "my visitors are always excited to visit Action Motion."
Action Motion's biggest draw has to be its gamifier system, which displays player scores and timings on a leaderboard – the first obstacle course in Singapore to do so. This adds a competitive layer for even more fun, and A'fif is all for it.
"We encourage our members to keep challenging themselves by using the gamifier system," he said, adding that it allows anyone to discover their own potential. "They could actively challenge themselves or with friends and family, to either beat their own personal scores or even the highest points on the leaderboard screen."
"The feature helps us to stay active by encouraging people from different walks of life to learn that we can improve ourselves by beating our own standards," he explains, believing sincerely that players can "become a better version of themselves when they leave our doors".
This is why Action Motion has no age restriction, just a minimum height requirement of 1.25m to attempt the obstacles. Through these encounters, the young specialist also enjoys his interaction with fellow HomeTeamNS members who served their National Service in the SPF or SCDF units. He especially loves listening to them reminisce about "their glory days".
"I enjoy meeting different people from all walks of life," A'fif says. "And I love challenging and engaging my participants to become a better version of themselves by attempting the most difficult but fun activities."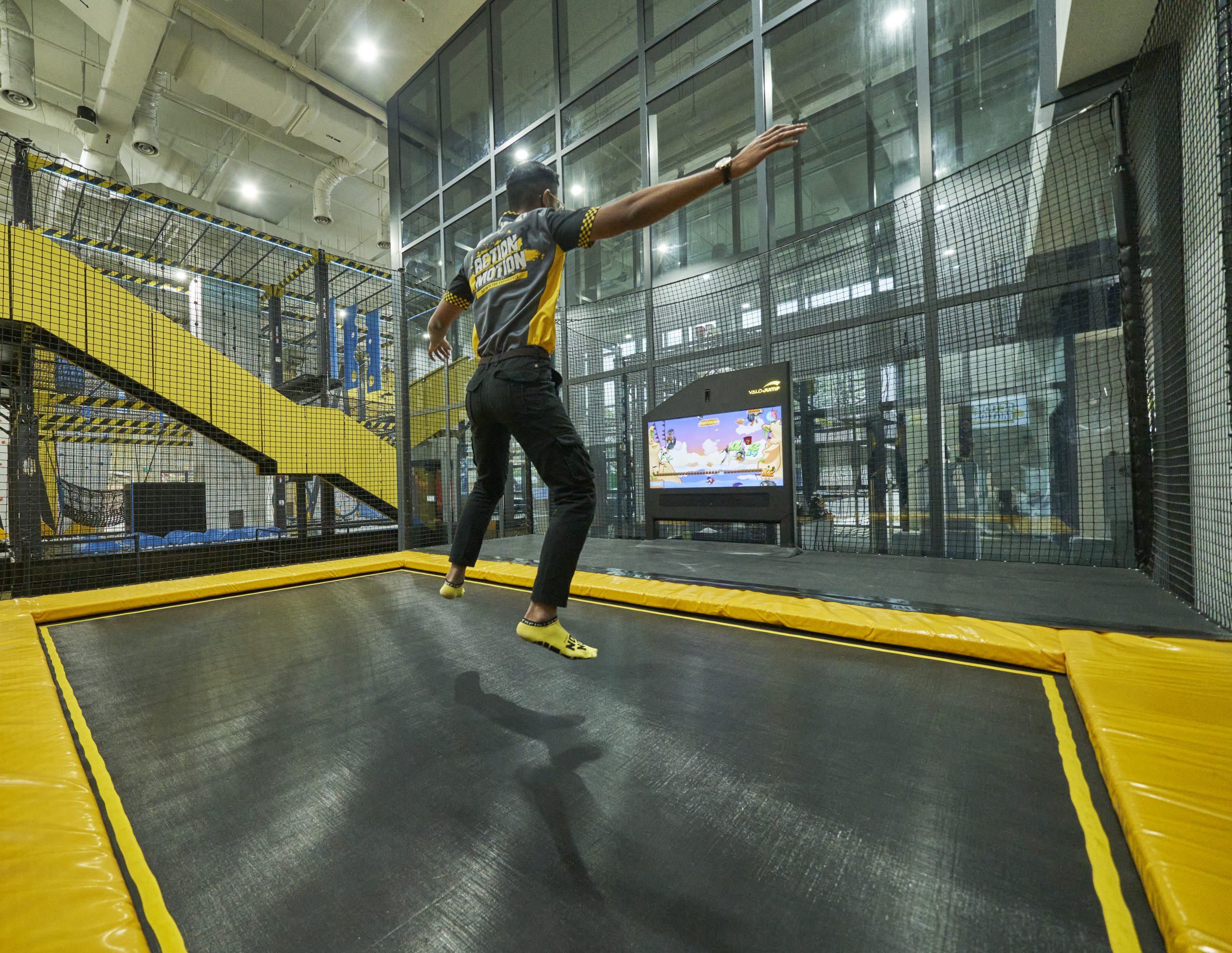 Spending a few hours at Action Motion offers visitors a fun way to stay in shape. "Staying active means keeping healthy, and being healthy means we are able to have more time with our loved ones," A'fif said.
Get a cardio workout at Valo Jump (which is also where A'fif enjoys bringing his kids) as you bounce to score points, or work on your mobility, balance and strength as you work your way across the obstacles in Rapid Action. Enjoy the view from up high? Try rock-climbing safely at the Ascend Lab with its auto-belay equipment.
And if a player shows signs of discouragement, A'fif is always at hand to offer support and motivation. "We will see if they are able to give it a go again," he shares. "If not, we will bring them to a safe spot for us to encourage and to see what we could do to help them complete the activity."
After all, it's all in the name of challenging yourself in a fun, safe way.
Experience for yourself how Action Motion brings fun and bonding while keeping you active.
Like our stories? Subscribe to our Frontline Digital newsletters now! Simply download the HomeTeamNS Mobile App and update your communication preference to 'Receive Digital Frontline Magazine', through the App Settings.