Fast track to bliss – An unlikely couple share their extraordinary love story that encompasses aquathlons, duathlons, triathlons and marathons.
Within minutes of meeting married couple Willie Teo and Karen Chan, you will be struck by how different they are. He is a banker, while she is a part-time children's organ teacher. He is gregarious and she is reserved. He is ambitious while she is unassuming.
As assistant vice president of a leading bank, Teo is a self-confessed workaholic. The multi-hyphenate has served as a Police Defence Tactics Instructor with SPF's Central Police Division, devoting a month or two each year to training officers.
In his spare time, he trains for his next race. In 2018 alone, he completed 18 races, including aquathlons, duathlons, triathlons and marathons, sometimes packing up to three strenuous events within a month.
The athlete also competes in the HomeTeamNS Clip 'n Climb Challenge and REAL® Run, with his team clinching the second runner-up prize in REAL® Run in 2017.
Unconventional Courtship
Teo's busy schedule left little time for dating. Even after he met Chan in 2016, he was too busy to ask her out for a standard movie and dinner date.
As a way to spend time together, Chan started to attend most of Teo's fitness events as his personal cheerleader. Over time, his passion for sports rubbed off on her, and she began training for events with him. These sessions morphed into dates.
"We'd pick scenic spots such as the beach, Sentosa Boardwalk and Marina Barrage to run together. Then we'd round up our date with a meal," he shares.
Chan started with the 5km run, then progressed to a 10km run, a half marathon and, in 2018, successfully completed a full marathon of 42.195km.
"Willie prepped me mentally and constantly encouraged me. During one race, he covered more distance just to bring me drinks before I reached the next hydration point," she shares.
Watching his petite girlfriend soldier through intense physical and mental challenges moved Teo, who admired her resilience.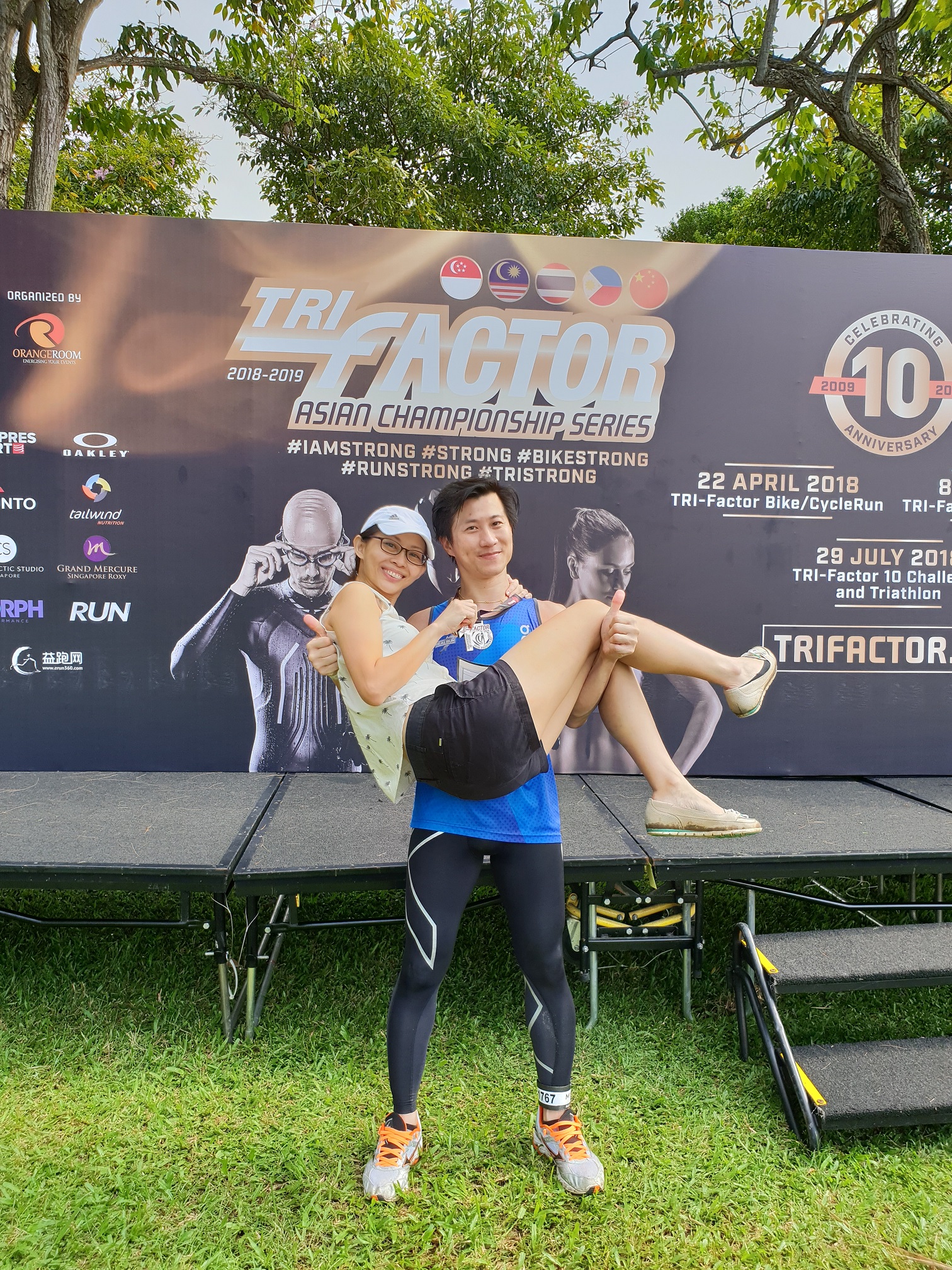 In 2017, less than a year after they met, he decided to pop the question at the finish line of the Standard Chartered half marathon. She said yes.
The hitherto long-standing bachelor shares that training together propelled their relationship to the next level.
"Movie dates usually involve little interaction. However, when you are training side by side, you tend to talk about everything under the sun – family, work and things you observe along the way. One jog beats 10 regular dates, as you form a deeper connection," he says. Chan agrees: "Going for movies feels mundane. When we train, we make it a point to explore new places. Our relationship always feels fresh." Common goals Having completed 18 sporting events in 2018, next on Teo's bucket list is the Ironman 70.3 in Bintan. This gruelling event involves a 1.9km swim in Lagoi Bay, a 90km bike course through verdant forests, and a 21.1km run.
As always, Chan will be there to cheer him on. Since Ironman takes place in different countries across the world each year, the couple hopes this will be the beginning of a new tradition for them – one that enables them to see the world and stay fit together. "A solid foundation built on our shared love of fitness would allow us to age gracefully, with minimal health concerns. Having common goals and shared experiences also strengthens our marriage," concludes Teo.