From ease of booking facilities to accessing membership promotions, the new and improved HomeTeamNS Mobile App offers users a more seamless experience.
TEXT: ADLINA ADAM
PHOTOS: HOMETEAMNS
A new version of the HomeTeamNS Mobile App has been launched, offering members greater convenience and a more user-friendly experience.
A preview event was held at HomeTeamNS Khatib on 17 Feb 2022, before the app's official launch on 21 Feb 2022. The event was attended by HomeTeamNS President, Associate Professor Muhammad Faishal Ibrahim, who is also the Minister of State, Ministry of Home Affairs & Ministry of National Development; Ms Agnes Eu, Chief Executive of HomeTeamNS; and HomeTeamNS volunteers.
The previous version of the HomeTeamNS Mobile App housed on the GetKaki platform was launched in May 2020. It garnered over 99,000 downloads, 35,000 monthly logins, and 64,000 active users over two years, clearly showing that there was demand among HomeTeamNS members for a fuss-free, seamless digital experience.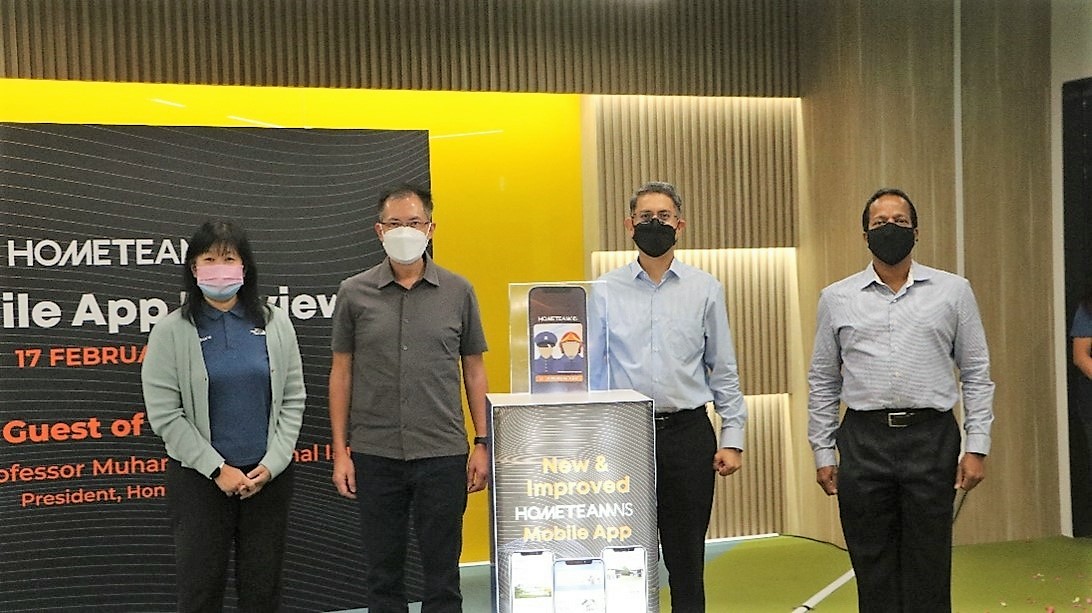 The new version of the app introduced new functions to provide a more fulfilling user experience. It is also now easily searchable and downloadable from Google Play and Apple App Stores.
"We are delighted that many of you find our app useful," shared Assoc Prof Faishal. "To further enhance the membership experience, the newly-improved HomeTeamNS Mobile App will deliver more services through an improved user-friendly and responsive interface with additional personalised interactions such as location-based recommendations, bookings management, targeted push notifications, and chat support functions."
Here's why the new HomeTeamNS Mobile App is a download-worthy addition to any HomeTeamNS member's mobile device.
1. IT'S A TRUSTY AND HASSLE-FREE DIGITAL SIDEKICK
To make the members' experience more seamless, the enhanced app features a range of upgrades. Now, members can use it to book villas at HomeTeamNS Bukit Batok, clubhouse events, and even courses. Like any faithful digital assistant, the app sends reminders to users as their booking date approaches.
And here's a lifehack for those hanging around the vicinity of any HomeTeamNS clubhouses! Browse the Mobile App to explore recommended facilities near their location.
2. IT HAS 24/7 CHAT CAPABILITIES
Have a burning membership question in the wee hours of the night? Strike up a conversation with HomeTeamNS' Artificial Intelligence (AI)-powered chatbot, Irene. Simply type in any question concerning membership perks, facilities and activities, and you'll get a handy response. Irene even lists commonly asked topics in the chat to get the conversation started.
Alternatively, members can converse with the Association's live agents from 10am to 8pm daily.
3. YOU GET FIRST DIBS ON MEMBERSHIP PROMOTIONS
A digital 'one-stop shop', the app serves as a hub for all things membership-related. Members can access their HomeTeamNS Digital Membership Card in the app, which enables them to flex their membership entitlements conveniently at any of the participating outlets in the clubhouse or partner merchants nationwide. Get promo codes, redeem over-the-counter deals and find out more about those prime perks. From Burger King's $5 Cheeseburger Value Meal to 1-For-1 movie tickets and $5 F&B Combo by Cathay Cineplexes, members have access to a range of promotions at their fingertips.
4. LET THE STORIES UNFOLD
The Mobile App is also a library for HomeTeamNS updates, where members can scroll through their favourite Frontline articles on clubhouse happenings, lifestyle tips and more. Members can also access the latest stories featuring NSmen from the Singapore Civil Defence Force (SCDF), Singapore Police Force (SPF), and volunteers from Ministry of Home Affairs (MHA), anytime, anywhere.
Find a story worth shouting about? Members can also instantly share the article to their social media pages like Twitter, Facebook and LinkedIn, or messaging platforms such as Telegram and WhatsApp, at the touch of a button.
5. ALL FOR ONE, ONE FOR ALL
Unlike the older GetKaki version, this app is also open to anyone registered under the HomeTeamNS Family Scheme. This means family members get their very own account to explore the various features for themselves.
At the launch of the enhanced Mobile App, Ms Agnes Eu, Chief Executive of HomeTeamNS, shared: "We hope that the HomeTeamNS Mobile App will transform how our members maximise the usage of our membership perks and privileges at our clubhouses. This is the first of many steps towards HomeTeamNS' strategy to be mobile-first across all platforms."
As the saying goes: 'As one door closes, another opens.' The former GetKaki HomeTeamNS Mobile App will cease operations by 31 March 2022. To continue to stay up to date with the latest membership features and news at your fingertips, download the new and improved mobile app now!