Click here to view on Google Map.
Parking at Lobby A, B or F
Nearest MRT: Tampines Station
Nearest Buses: 3, 8, 23, 34, 292, 293
Mon – Thur: 12pm to 9pm
Fri, Sat. Sun, PH, Eve of PH and School Holidays: 10am to 9pm
HomeTeamNS Tampines will cease operations from 17th July 2022. For more information 
[Updates]
We started serving our members in the East with HomeTeamNS Tampines, a space that inspired our next Generation of HomeTeamNS Clubhouses.
The time has come, and HomeTeamNS Tampines will cease operations from 17 July 2022, as we are getting ready to move into a bigger space filled with more exciting facilities and fun – HomeTeamNS Bedok!
From now till 17 July 2022, drop by HomeTeamNS Tampines and experience what we have to offer before we upsize in both offerings and space at HomeTeamNS Bedok!
It's not goodbye but see you soon. Stay tuned for more updates on our move and HomeTeamNS Bedok!
Do keep a lookout here and on our social media platforms for where we will be shifting to!
Features of Clip 'n Climb

19 Climbing Challenges
The facility features 19 exciting colourful climbing challenges with different difficulties suitable for all levels of climbers.

The climbing process is a great start to improving a kid's concentration and focus, as well as sensory and motor skills.

The deliberate use of abstract themes, strong colours and many different materials in Clip 'n Climb provide a stimulating and tactile environment.

TruBlue Automatic Belay System
As our customers' safety is our top priority, we use the TruBlue Automatic Belay system.

It features magnetic eddy current braking technology that allows a safe, controlled descent to the ground.

To enhance safety, we also highly advise our climbers to turn up in proper sports wear and fully covered shoes.

Packages & Offers
If you enjoy Clip 'n Climb, we also offer both birthday packages and group programmes including field trips and corporate and team bonding!

On top of this, you can double up your party with our combo packages that include Laser Quest activities as well!
Pricing
Corporate & Party Packages
Pricing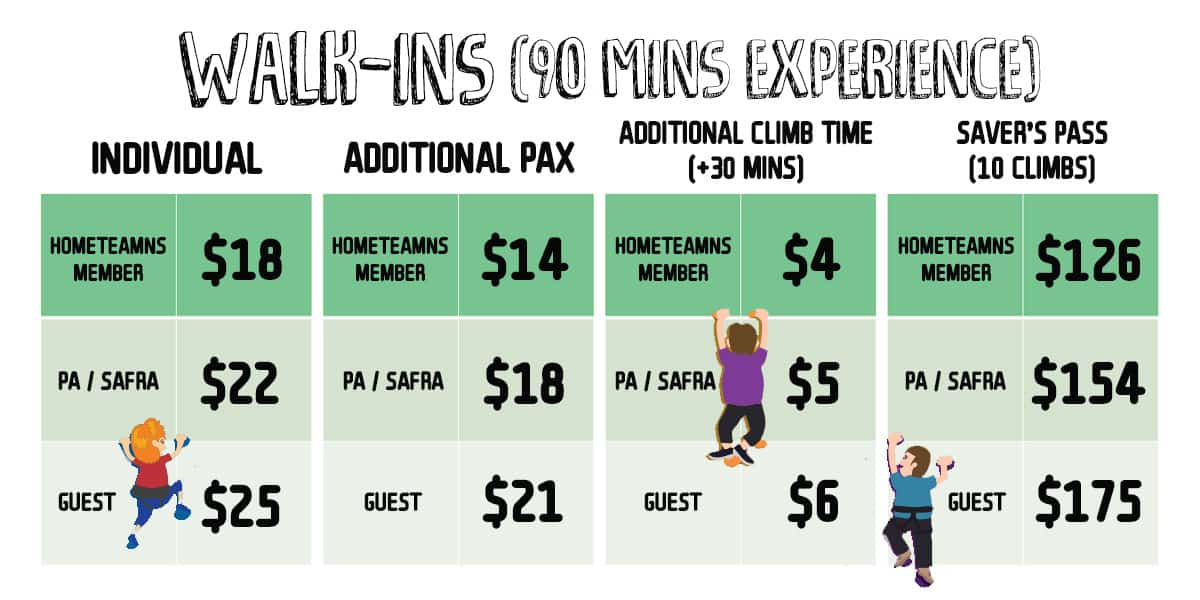 Corporate & Party Packages
All climbers need to strictly abide by 3 allocated briefing timings for each session (every 15 mins from the allocated session time). Once the session starts, late-comers are not allowed to enter until the next round of briefing. If you have missed the last round of briefing you will not be allowed to enter the arena and your tickets will be forfeited. E.g. when a 10.30am session commence, as soon as the Games Specialist starts the harness briefing, nobody is allowed to join in mid-briefing. Late comers are to wait for the next set of briefing to commence at 10.45am. Once the briefing for 10.45am starts, nobody is allowed to join in mid-briefing. If they missed the 10.45am briefing, they can only join the last briefing which is 11am. Any later than that would mean that they have missed the session. If they wish to climb they can do so but subject to the availability of the next session.
Entry to Climbing facility
All members and guests will have to book their slots via HomeTeamNS Mobile App prior to arrival. Refer to below for details on online bookings.
Increased frequency in cleaning and disinfecting of high-contact areas
Our housekeepers and Games Specialists will wipe down the equipment after every mission. High contact areas will be cleaned every 2-hourly.
Personal protective equipment
For safety reasons, only Clip 'n Climb issued harnesses are allowed. Harnesses will be wiped down after use and rotated with a 3hour down-time.
All participants are required to wear a mask throughout the session as Clip 'n Climb is considered an indoor activity.