World Cup Fever at HomeTeamNS Khatib
Experience the World Cup Fever 'LIVE' at HomeTeamNS Khatib.
Catch the 'LIVE' action with us here at HomeTeamns Khatib! Join the World Cup Fever and bring your family and friends to watch the World Cup 2022 'live' all the way from 21 November to 18 December!
World Cup Fever Highlights
Click on the imag(e) for more information.
World Cup 'Live' Screening
Bring your family and friends and join us to catch the 'live' screening of World Cup 2022!
MEMBERS EXCLUSIVE!
Priority seats!
Free snacks and drinks!
Match Schedule and Fixtures
FREE 'Live' Screening
Applicable for 'Qualifying Group' Stage
Doors open half hour before match begins

HomeTeamNS Members get priority seating and a snack pack
Entry Pass
Applicable for 'Quarter-Finals' / 'Semi-Finals' / 'Finals' matches
1 X Snack Pack Redemption
Match Schedules and Fixtures
We've got the full schedule of the World Cup 2022 here! Feel free to download or save the image as your ultimate World Cup 2022 guide.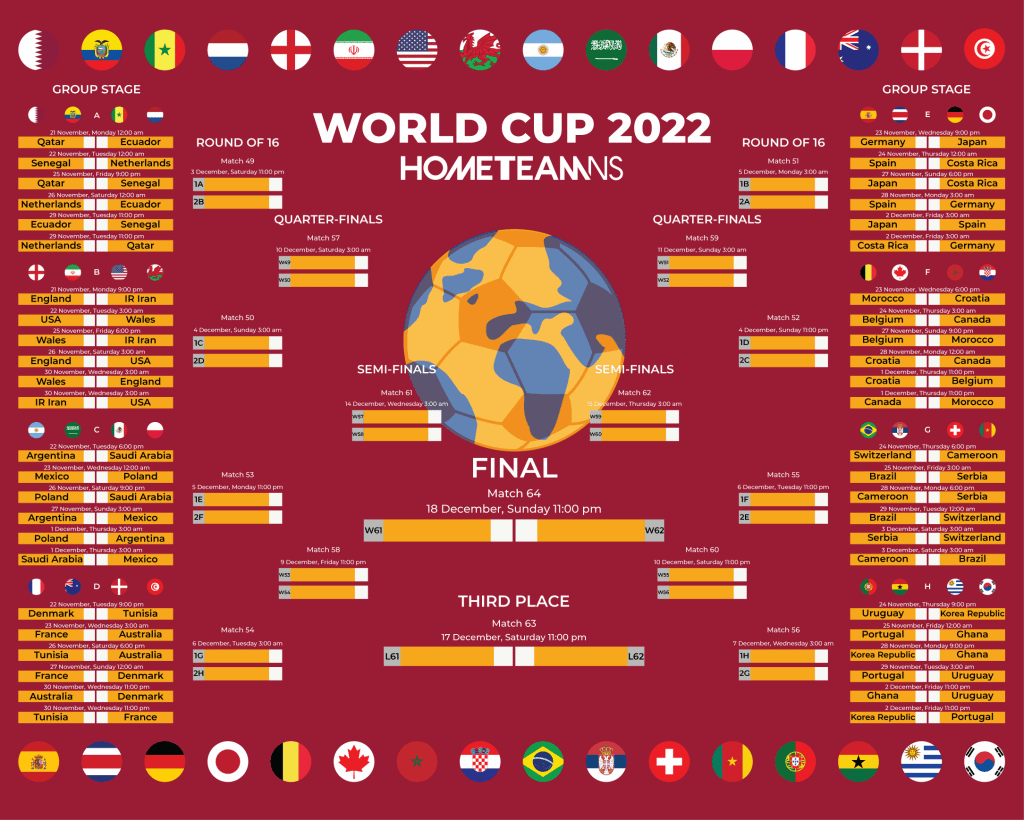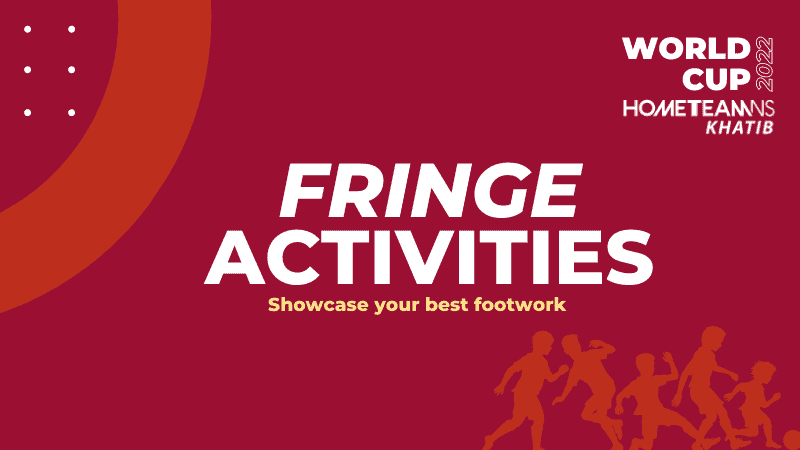 Whether it's half-time or full-time, everyone can enjoy the fun-filled soccer activities happening at our Level 1 Main Thoroughfare.
Frequently Asked Questions
TERMS & CONDITIONS.
HomeTeamNS reserves the right to make any changes or modify our Terms & Conditions without prior notice.
HomeTeamNS shall not be held responsible for any claims arising out of any death or injury, damage or loss, suffered or caused during participation, and this includes all costs and expenses incurred as a result of such claims.
HomeTeamNS decisions are final. No correspondence will be entertained.
By attending the activity stated above, participants consent to the use of photograph, voice, likeness, and image in any broadcasts of this activity and in subsequent productions drawn from video or audio recordings of this activity. The photographs and recordings may be published or broadcasted in the official HomeTeamNS and HomeTeamNS affiliates' publications and in publicity materials, including the HomeTeamNS and HomeTeamNS affiliates' websites and social media. All recordings, articles, quotes, photographs, films, CCTV footage, audio or video and/or any reproductions of same in any form, are the property of HomeTeamNS. HomeTeamNS and its affiliates, employees, representatives and agents are released from any and all claims, demands, costs and liability that may arise from the use of any of the described above, arising out of being interviewed, recorded, photograph, videotaped or filmed. It is the responsibility of participants to remove themselves from group and candid shots/recordings that the photographers/videographers intend to capture, if they do not wish to have their photos/audio-visual recordings taken at the activity.